Our Young warrior, Prasiddhi Singh held up her spirit and thrust to keep up her visionary initiative to build the Prasiddhi forest with a mission to plant one lakh fruit trees in government schools and public places to provide fresh fruits to everyone and enhance the biodiversity of the environment.
Prasiddhi an inquisitive and passionate nature lover, she prefers growing amid nature rather than a well-designed concrete environment any day. Surrounded by environmentally health-conscious people, she continues her footsteps towards nurturing nature in the month of November also.
Here is what Prasiddhi initiated in the month of November to achieve her vision!

⦁ Keeping up the vigor and momentum for this month, Prasiddhi and the eco warriors planted 2000 fruit saplings supported by Cholaiyil group and Mahindra logistics. Planting these two thousand saplings at Manimangalam, she goes a step further to achieve her dream of planting 1 lakh saplings. Prasiddhi's strong conviction and sense of compassion leads her towards creating a sustainable earth. She celebrated this Diwali by planting saplings instead of bursting cracker like how her counterparts do.

The roots to a prosperous world were planted on the festive of occasion of Diwali and Children's Day!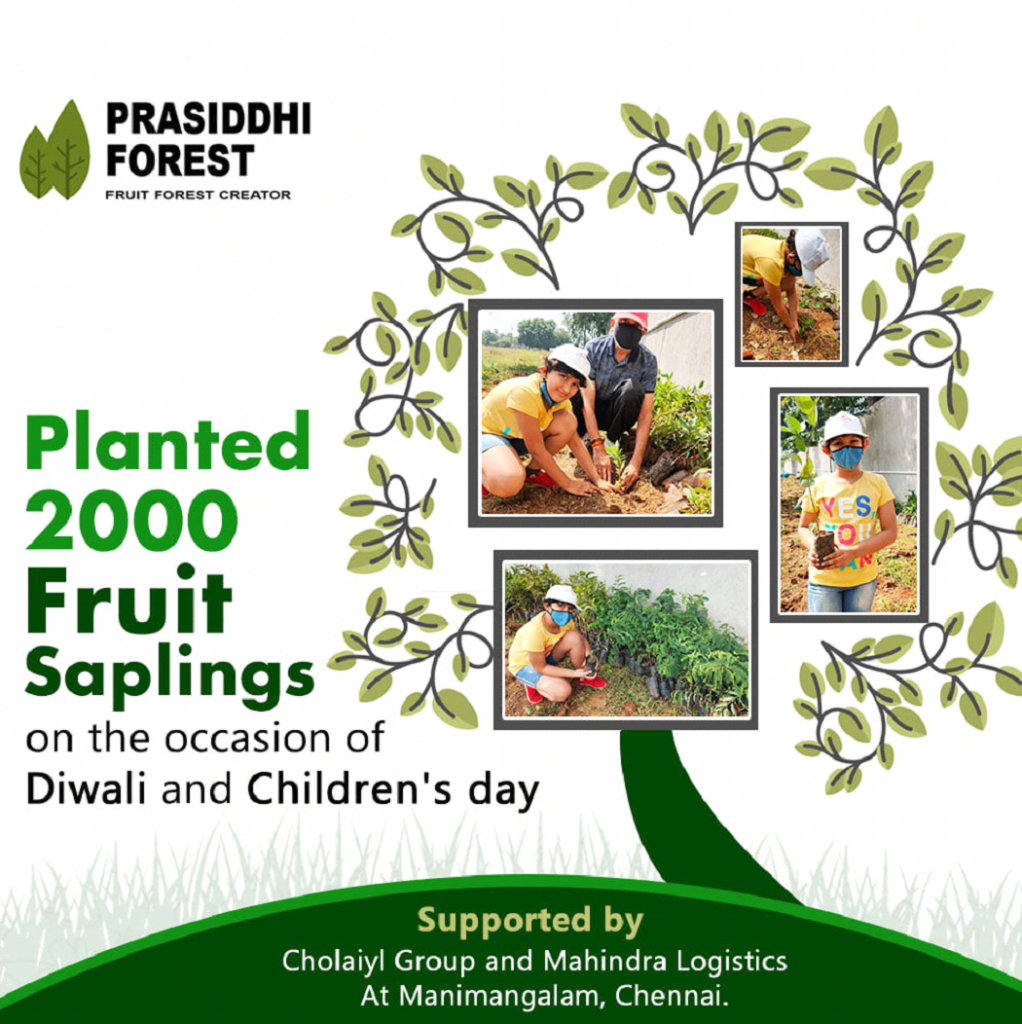 ⦁ Moving forward after planting 2000 saplings, Prasiddhi initiates to plant 250 fruit saplings at Annai Sivagami Govt Girls Higher Secondary School, Puducherry. Prasiddhi and the eco warriors gear up on this mission and meticulously plant 250 fruit saplings. This was an individual initiative towards building a green planet through healthy and nutritious fruit trees. We promote organic farming to nurture a healthy environment.
We are thrilled to showcase that this is our 11th fruit forest in our vision. Our team was extremely thrilled and elated by the hearty wishes extended by Honorable Lt. Governor of Puducherry Dr. Kiran Bedi. On the interaction with the Honorable Governor, Prasiddhi had highlighted her initiatives and ideas towards achieving her vision. This interaction proved to be a milestone in Prasiddhi's venture.
Watch the virtual interaction between the Honorable Lt. Governor of Puducherry Dr. Kiran Bedi and Prasiddhi in this link https://youtu.be/zOAnLDTEy_w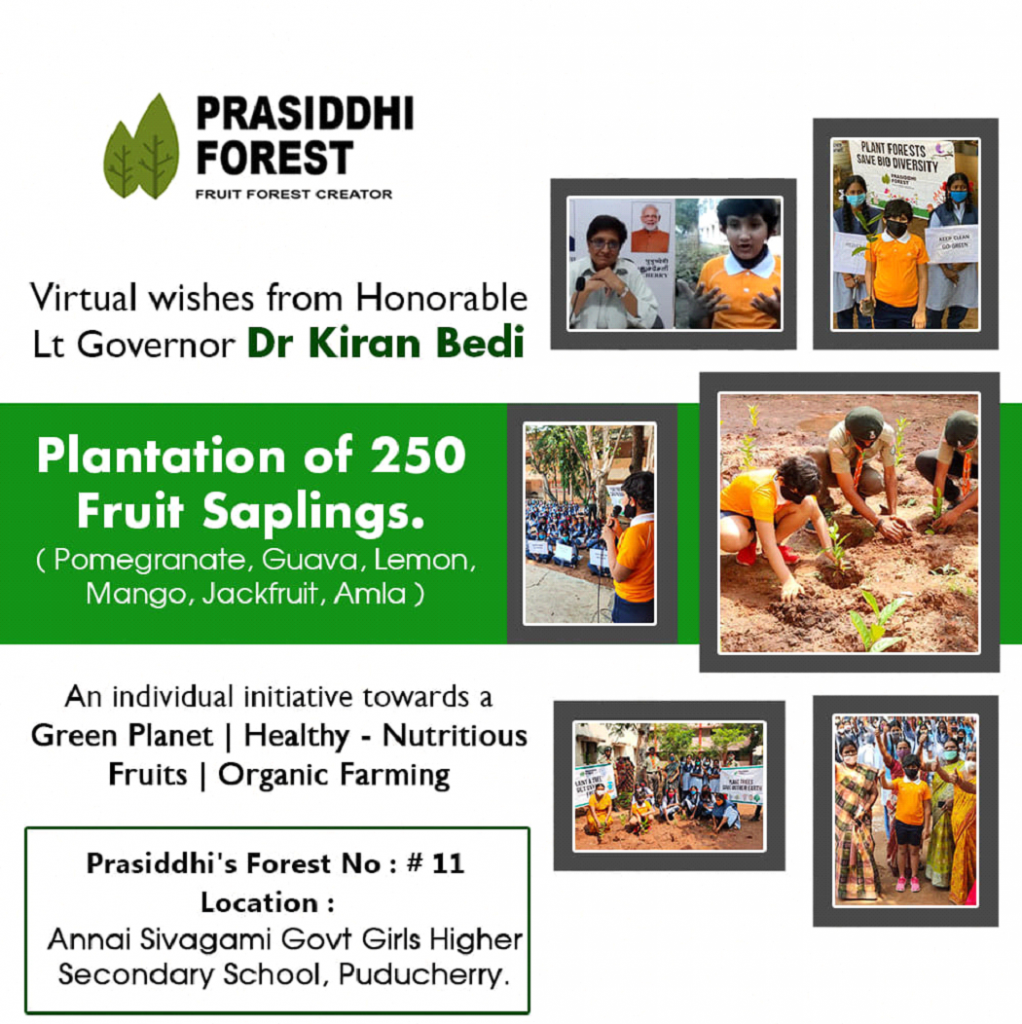 ⦁ The three day Surya Namaskar Session with Rainbow school students was a session on the ultimate asana with these school students of Nellore. Surya Namaskar, the Salute to the Sun is a traditional practice in yoga as exercise incorporating a flow sequence of some twelve gracefully linked asanas. It was a wonderful session filled with a lot of enthusiasm and learning. Numerous students were motivated through this exemplary session. Prasiddhi stands as a young motivator and educator through her sessions. She continues to motivate hundreds of children through every activity and initiative she takes.
Watch the exclusive Surya Namaskar Step by Step video of Prasiddhi by clicking this link https://youtu.be/zwzaXNB2H4A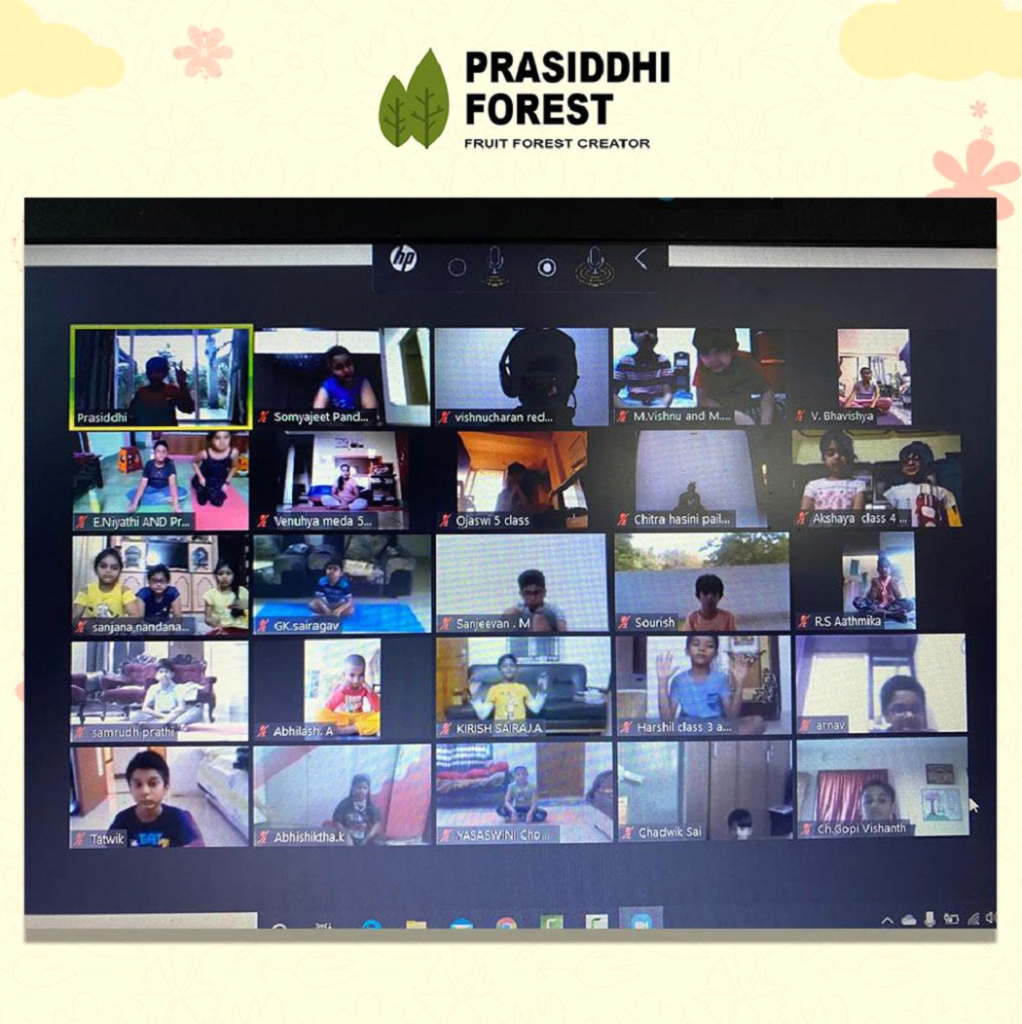 ⦁ The story telling and environment awareness session with Sivananda Child Home is one of the most interesting activities undertaken by Prasiddhi. This session always proves to be a very knowledgeable session with lots of learning and takeaways to the participants. Prasiddhi has undertaken an immensely arduous journey to educate and motivate millions of people to create a sustainable earth.
For a beautiful tomorrow……
Let us create a safe haven for children by saving seeds, planting them, nurturing them and create a beautiful tomorrow for everyone.